Note: I was provided with a free copy of the pattern by the designer, but all opinions are my own.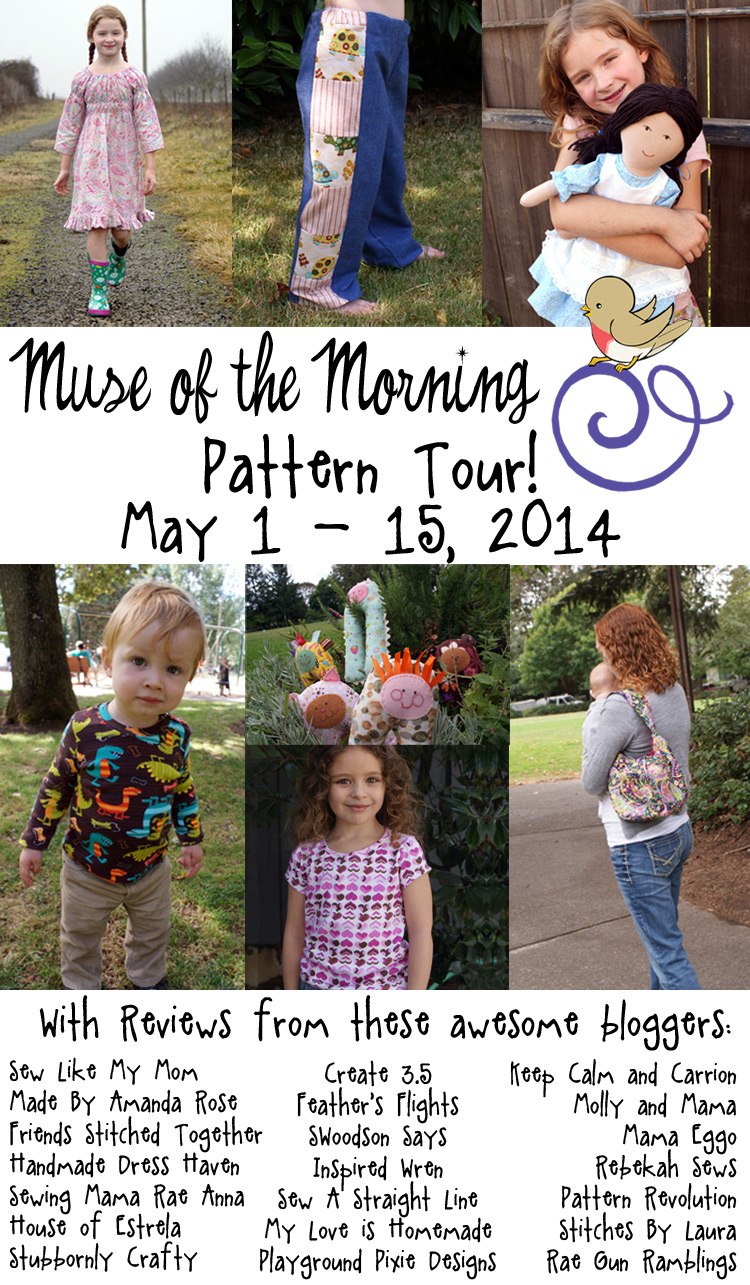 I was so happy at the chance to try and review one of the
Muse of The Morning Patterns for this tour
. I have to be honest, I didn't know them before and having the chance to pick one out of them all, was exciting. Chrissy has lovely patterns, and I was about to claim another one for myself, but I will have a boy soon, so after all, I picked the
Billy Bright Eyes Snappy Tee Shirt
.
I didn't have any basic pattern for a snappy shirt and this one comes with
four different options for the sleeves
. Not to mention that it has 9 different sizes -
from 3 months to 6 years
- and it's
perfect for boys and girls
. I love it that it starts at 3 months, because it is so hard to find good patterns for such smaller sizes.
I've cut two of these actually, but for today, I have only the one I made for my little girl
(you'll have to come back here later, whenever I get the refashioned long sleeved one for the boy, done)
... this one I am sharing today is a 2y sized one, and it fits my daughter perfectly. I picked the size according to the measurements chart, so I am happy we got such a good fit.
Because there is the Kids Choice series going on, I allowed her to pick the fabric (she had picked some other before for another piece, where she could chose from my entire stash). I gave her all the knit options I had, and to my surprise, she picked a solid pink/salmon knit I dyed and had used just a few days before to make a pair of shorts for her (pattern testing, I will share later too).
I was going to make the entire tee with that fabric, but when the time came to attach the neckline band to it, I felt blue. My fabric wasn't stretchy enough to allow it to fit the entire neckline. But it wouldn't stop me, of course. I've picked the same rib knit I used for the
(previously mentioned)
test shorts, cut it to the pattern piece and it was just right. Everything was ok. I really liked how the collar looks.
That wasn't everything that went slightly wrong with me (and I want to make sure you read it right: me, not the pattern itself). I had purchased a whole new bag of plastic snaps. I have never used them and was excited to have a project to try them on... if I only knew where I've put them. I just couldn't find the damned bag of snaps, so I've taken the time and have sewn some metallic ones as I have been doing before. I know they are not as pretty, but it works.


This has everything to be a quick and very satisfying project, but it took me hours - no kidding - to get it done. I was waiting for bedtime to sew it, but guess what?! In between the collar that I had to re-cut, the poor quality thread I picked and was constantly breaking when using my twin needle, sewing snaps AND a kid that just wouldn't fall asleep for more than 2 minutes and then start crying and calling for her mommy, I thought I wouldn't get it done ever. But once the little lady fell asleep, the thread behaved and everything seemed to start working as it should. When I finished, I was happy at how professional it looks.
I loved this pattern, I am sure I will be using it again and again, and it's a basic pattern that we can also easily adapt to our needs, and patterns like that we all should have in our collections. The little miss was happy about her new shirt too. I think it's the the genes, but I am realising lately that she'll choose solids over patterned fabrics. Maybe she's just used to it?!
If you want to get any of Muse of The Morning patterns, here's a coupon code BLOGTOUR30 to get you 30% all patterns sold through the website until May 15!!! And if you rather try your luck, don't miss the giveaway HERE.