Oh Sunday already! Another week from our
Refashion Month
gone. It's going so fast! Have you been enjoying it? Have you been sewing along? Don't forget to check out our
Flickr Group
, where sewalongers have been sharing their creations too. There's so much more to come!
Today I am going to tell you a bit more about two items you've seen before. The two onesies I have refashioned to go along with the
Harem and the Play Pants
. I had those onesies bought since last summer. My first plan was to fabric paint them like I did with the
playboy inspired onesie
, but I never got around to it, and I thought I´d might use them now, or soon they won't fit baby G. anymore.
So, it brings me to the day I made the Harem shorts. I was short on time and needed something quick to refashion that would match my shorts for the photoshoot. And tah-dah: I thought of the well hiden onesies. I chopped the button of one, and turned it into a t-shirt.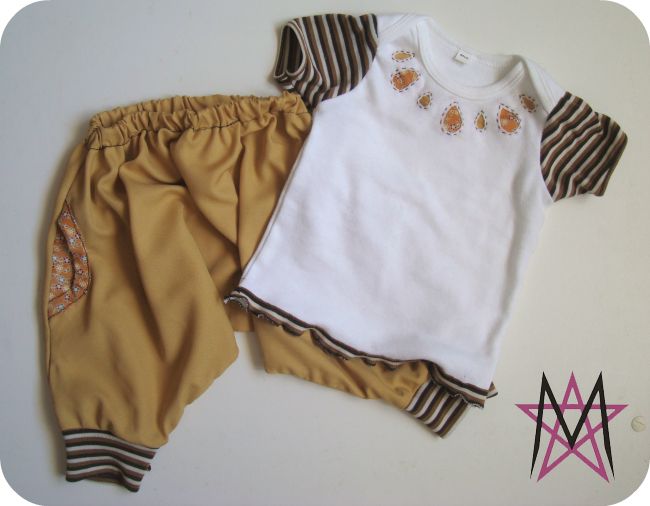 I had scraps from a striped t-shirt of mine that I had cut long ago, to make a comfy waistband for my jeans during pregnacy. That was a tight small shirt and I had basicly the top and sleeves left. So I actually used it to almost 100% to create the look above. I used most of it to make the short's cuffs and then I was able to cut a little stripe to add on the bottom of my newly made toddler t-shirt.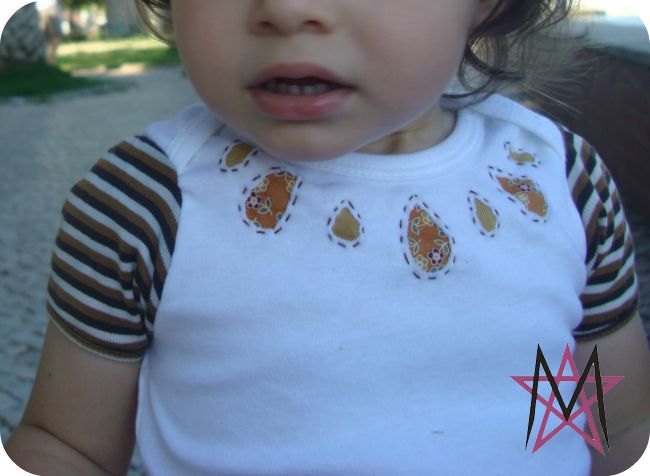 I've also switched the original sleeves for the ones from the original striped shirt. Of course I had to resize them first.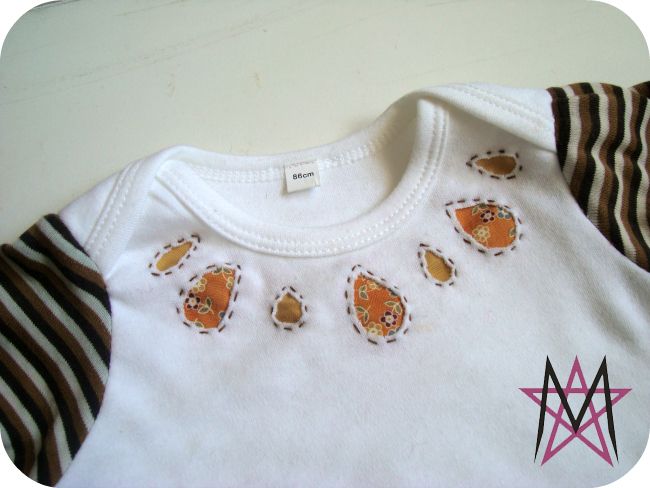 To make the detail on front, I used little scraps from the fabrics used in the shorts, and made bigger and smaller petals applied with the reverse applique technic which was something new to me.
And I enjoyed it so much that I had to use it in another onesie. This one was even quicker, since all I had to do was making a little M pattern (traced by me), and applying it to the onesie. A few minutes and voila, it looks like a complete new one.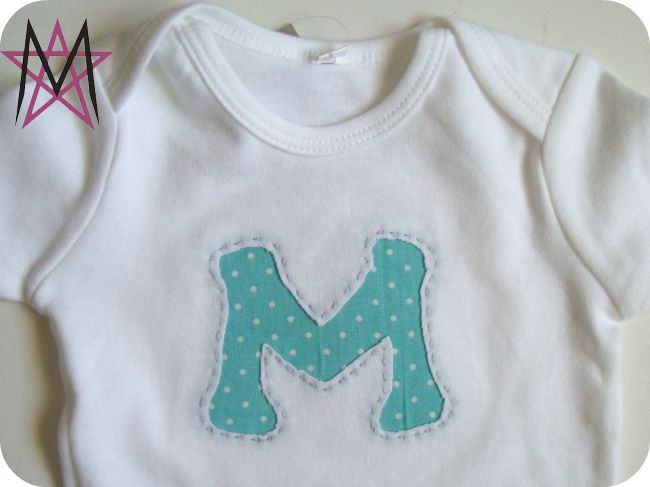 Just because they were such an easy and quick projects, I even had some time to make a matching hairclip with scraps from the play pants (same fabric used for the onesie, of course), to make it all matchy as a gift for my little niece.