Warning: long long post!
It's
"Let's go to the Movies"
week over PR&P, and I had a hard time picking my movie inspiration to start with. More than a movie my mind kept going to Tim Burton. I love Tim Burton, and all his movies. I decided I'd choose from one of them movies then. But which of them? So hard! I went with one I haven't even seen yet...
Frankenweenie
! I searched for photos to get some inspiration... and a character caught my attention:
You see, even before I knew where to get my inspiration from, I wanted it to allow me to make my nephew a pair of
Small Fry Skinny Jeans
(or shorts in this case) which I have tested just a couple of weeks ago (
this is the second pair, I will share the first test pair with you for the third week of PR&P and tell you more about it - this post will be long already
). Then, when I saw the picture above, I knew, there was my inspiration combined with my need to make a pair of shorts. He's wearing stripes!!! And although I ended with no time to make the striped sweater I was planning too, I think my shorts turned out pretty cool for my cute 8 year old nephew. I even dyed a t-shirt to refashion, but it's still waiting for me to work it on. I will, eventually!
For the shorts I used/refashioned a pair of denim pants hubby wasn't wearing anymore, they looked grey to me and it was perfect, since the movie is all black & white - grey then; it would fit perfectly the theme. For the pockets I refashioned an old bag of mine that I loved so much when I was younger, that's why I was never able to get rid of it. I still have most of it left and I plan to use it! The pattern comes with two options for the front pockets, I went with the patch ones this time. The skulls print makes me think right away of Tim Burton too, so it was appropriate. I used a magnetic button to make it easier for him, he's always so slow with buttons... hehehe. I hope the boy likes it, because when I finished the shorts I wished they'd fit me. But, even though I'm so tiny, they don't! =(
(you can get the pattern here)
So, I didn't make the sweater for my nephew, but the shorts weren't the only ones I made this week.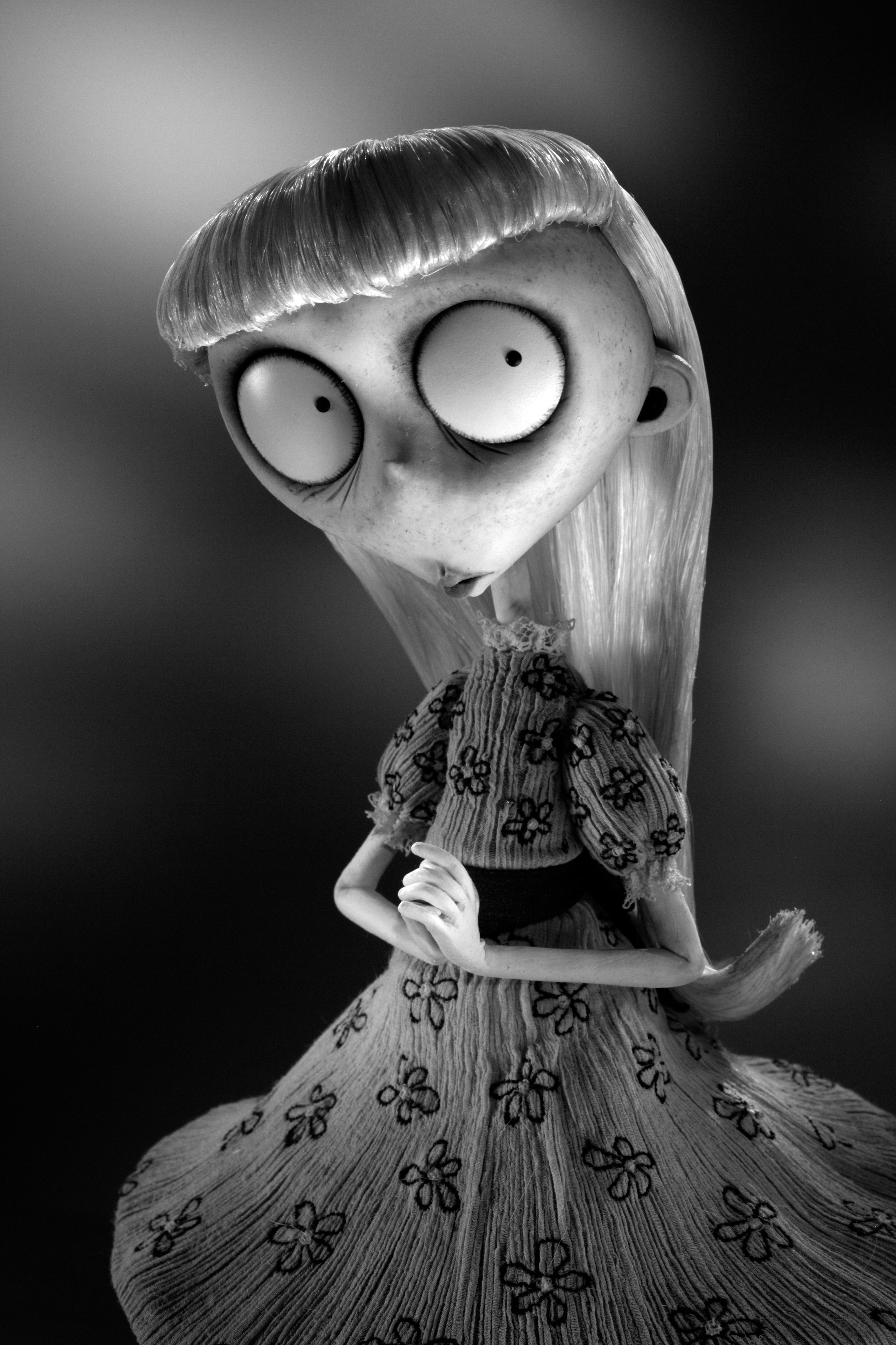 Half way through my plans I thought there is a little girl in the movie (the
weird girl
). Her dress seems to twirl and
yey
this time I really had to make a
Saffron Twirl Dress by Zafarani
and I had to make it quick. I was so lucky when our dear contestant Karly sent me a copy of her amazing pattern for me to review -
a few months ago!!!
- , back then, I made the dress for my niece using this pink heart printed fabric I had from my stash and didn't know what to use it for... but when I tried it on her, it wouldn't fit. It was a bit dissapointing, and I believe she got bigger since the last time I had taken her measurements, I don't see another reason to have failed when I double checked the size. We were able to put it in on her, but the poor thing couldn't breath. The same day she tried it on we had an almost 3 year old friend visiting, and she tried it on too.
on the first picture, that's my niece: just look at the armhole and how tight it was. On the second photo is our friend's daughter. although a bit too long, it fitted her perfectly because she's a cute chubby girl.
Noneless, my niece had a lot of fun twirling in her almost-to-be-dress. The little one got it after all, and I promised my niece I would make her another one.
I loved every bit from this pattern. Instructions are easy to follow and although it isn't an one hour project - not for me at least, I keep checking my e-mail every now and then in between), it was really worth it to make. For the first one I did follow instructions and made no alterations, except for the long straps - I didn't make them the first time. Oh, and by the way, I dyed the fabric to get the grey tones I was wanting for this week.
But when I did this second one this week, I had in mind
the one Marta from DoGuincho shared a while ago
. Instead of lining the bodice, Marta used bias tape to finish it, and I liked it so much I was sure that was a
must try sometime for sure
. So, I did the bias version too. And I loved it. I just took off a tiny bit from the armholes and the seam allowance from the neckline. I also rounded it just a little bit to make it easier for me to add the bias. I made the strips this time and I can see to put it on my niece and see how it looks like. I made her a size up this time - I think it'll fit.
Also, after using the pattern more than once I was able to make no mistakes. There was something wrong with the little elastic case on the first one and I had to make a few handstitches to cover the mess. This time it turned out perfect. I couldn't be happier. This is a great pattern and I bet every little girl loves a twirly dress.
(you can get the pattern
here
)
Unfortunately the kids don't live just around the corner, and I wasn't able to go and visit them in time to take some photos of the pieces modeled by them. I am to make sure I'll get those photos taken though, so I might just update this post in a few days.
Apparently this season I won't make all the items I first planned to. You see, everytime I read the themes for a new season of PR&P, I get all excited and start scratching my ideas for each and every theme. It lasts for 4 weeks and I had it all figured out this time. I would make an outfit for my daughter in the first week, one for my nephew in the second, one for my niece in the third and finally one for my grandniece for the last week. Now let me laugh, because baby number 2 is being totally different from big sister and during this pregnancy I haven't been able to sew as much as I'd wish to. All my plans have been changed. I'm still trying to make clothes forall four kids, but I am certainly not doing a complete outfit for each of them as hoped.
And thanks! If you read it this far, you might be happy to know this is it! See you next time!