If you don't know the Shaffer Sister's already, then you've been missing a lot. They are three amazing sisters that sew and blog together
over here
. They are some of the nicest and kindest bloggers I've got to know in many years blogging, and because of that it is an honour and huge pleasure for me to be part of their pattern tour today.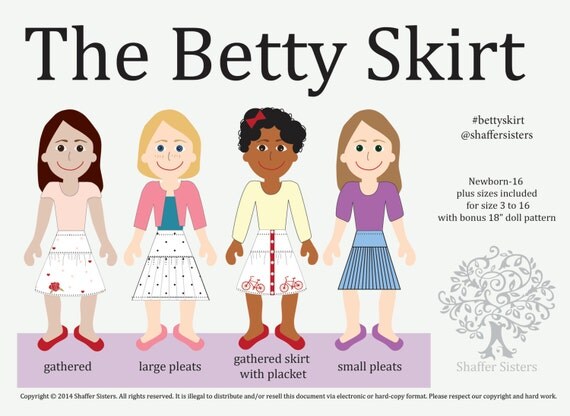 The Betty Skirt is their first pattern available. It has recieved several improvements lately, and it's a fantastic pattern because, one: it has 4 different options (Gathered, Gathered with Placket, Small Pleats, Large Pleats). two: you can skip printing the pattern and just follow instructions on how to cut. three: it's really quick and easy to sew. four: it ranges from Newborn to 16X plus a bonus 18" doll size. How great is that?! Also, there's detailed and useful information on how to adjust the pattern for a perfect fit. But there's more, in their blog you can find a free printable of a Betty Skirt Coloring Page/Paperdoll.
Click here
to download it. Print it and have your girl designing her own skirt.
For now, I have done the gathered option, but I sure want to try to make some pleats in the future. My girl is not a skirts girl, she rather wear a pair of leggings or jeans (shorts are a must in Summer too), but skirts aren't usually something she bares to wear for too long. However, it twirls. And that makes this skirt so much fun for her. She kept jumping around. As for myself, I loved the fact that it isn't too short. I don't like when her underwear shows everytime she moves.
This is a refashioned skirt. Well, I used scraps of the brown fabric. And I used left overs from a dress I've cut last year and made into a tunic for my mom. They are both made from a soft and light cotton and I love how they look together. one thing I realised is that I need to sew a shirt that matches the skirt, I barely found something in her huge wardrobe. So many clothes and nothing that would look good with it.
Make sure you visit all the bloggers in this tour and check the versatility of this pattern. If you want to get your own and start making your own Betty's, grab the 30% coupon code
BETTYTOUR
in their shop, by clicking
HERE
.